Karesh Long Term Care
KershawHealth Karesh Long Term Care & Rehab ("Karesh") is a 96-bed long term care facility located on the main campus of KershawHealth at 1311 Roberts Street, Camden, SC.  Planning long-term care for your loved ones is never easy and that's why our professional staff is dedicated to providing compassionate care that focuses on comfort, respect and quality care for residents as well as support for their family members.  Our facility is licensed by the state of South Carolina for skilled and intermediate care and for Medicare and Medicaid recipients.  Social Services and recreational activities are also offered as part of long-term care.  We accept Medicare, Medicaid, Private Pay and Long Term Care Insurance.  Karesh is being managed by White Oak Management, Inc.
For more information about Karesh - click here. 
For open positions - click here or visit the White Oak Manor website:
Click on careers in top right corner
Click on View all positions at the bottom
Choose "Karesh" in quick search
Select position
Fill out application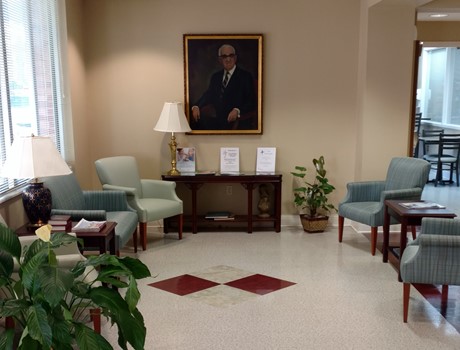 Meet the team!
Scott Neal - Administrator
803-572-8999
sneal@whiteoakmanor.com
Loretta Wrigley, MSN, RN - Director of Nursing
803-572-8999
lwrigley@whiteoakmanor.com
Don Deppe, RN - Admissions Coordinator
803-713-2731
803-713-3110 (Fax)
ddeppe@whiteoakmanor.com
Sigrid Hatcher - Business Office Manager
803-713-2732
shatcher@whiteoakmanor.com
Sarah Gerula - Activities Director
803-713-2679
sgerula@whiteoakmanor.com
BeGee Mays - Human Resources
803-713-3100
bmays@whiteoakmanor.com
If you or a family member is interested in becoming a resident of the Karesh Long Term Care Center, please contact Mr. Scott Neal, Administrator at: (803) 572-8999